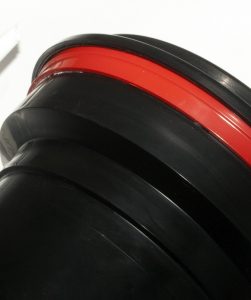 My old faithful Jobo developing tank unfortunately leaked from purchase but recently it got to the point that a new developing tank was called upon. After searching the forums for a good developing tank that was reported as not leaking, and to be a good buy! I decided to place an order for a new shiny Paterson System 4 tank after reading so many good reports about it and wanting to buy British. When it arrived I was excited to put it to the test, but I could not believe it, it leaked! OK admittedly not as much as the Jobo but never the least it still leaked.
So I had two options, send it back and get another or put up with it. I decided to put up with it as I had accumulated quite a bit of 120 roll that I desperately wanted to get developed. Over the last couple of weeks the leak has developed, (sorry I could not resist the pun) so I decided to take a closer look. On closer inspection I noticed that it was leaking from below the red band that the lid clips on to. This was good as it meant the lid it self was not leaking and the red band could be repaired. Below is how I repaired it and I'm very pleased with the results, for the first time I have a tank that does not leak.
Tools needed:
Decorators Masking Tape
Tube of White Silicon Sealant
Silicon Gun
Small Cup of Water with a dash of Washing Up Liquid
Old Cloth
Making sure the tank is clean, begin by placing the masking tape along the bottom of the red band, you will have to do this with small pieces of tape. Then do the same about 5mm below the red band but with one long length of tape .
Now squeeze a nice bead of silicon in-between the masking tape under the red band all the way around the tank. Once completed dip a finger of your choice into the water washing liquid solution and smooth out the bead you have just laid. Be careful not to rub too much of the silicon off, the aim here is to push it into any gaps under the red band while leaving a nice smooth bead of silicon as you go. Any excess silicon can be wiped from your finger onto the cloth as you go along.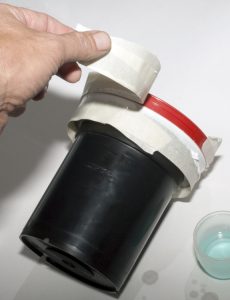 Before allowing the silicon to dry and once you have a nice smooth bead remove the masking tape. If you leave the silicon to dry first before removing the tape, you will pull up the silicon bead with it and will have to start all over again. Once the tape is removed allow at least 1-2 hours to fully dry before use.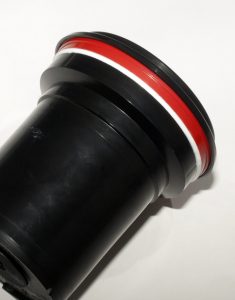 I think I know why leaking happens with this specific tank. After every inversion when using the tank I tap it on the side as do most people to release air bubbles. I believe that the adhesive or heat weld of the red band breaks which in turn allows developing chemicals to leak. If this is the case then Patterson should look at the design and instead of using glue or heat weld maybe use a rubber sealant along with a male/female profile of the two parts to be fixed. The reasoning behind this is using a rubber sealant in connection with a male/female profile would make it a strong fix but also much more flexible to inversion knocks and bangs.