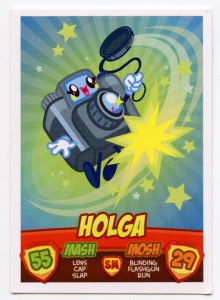 Lens Caps Off to Moshi Monster's Holga Camera
Mind Candy and Topps has introduced photography to children. Via a variety of media, including television, books, an online website, and a game. Seems, to me, a great way to develop an interest in photography in children of an early age.
Photography is a great skill, it has the ability to make people of all ages more perceptive to their surroundings. Being able to encourage a child to develop this at an early age can only be a good thing, right?
My 8-year-old shouted, "Dad, I have a card with one of your cameras on!" I was pleased to see that he was holding the Holga card from the Techies set. Holga is a Happy Snappy Moshling who likes to take photos and hand them out to other Moshlings. My son has been collecting the now poplar Moshi Monsters game cards, produced by Topps for a while now, (2012). Though, I have a more extensive camera collection in comparison. It seems the cards are a popular choice amongst his age group, which is also good to see.
I have not been able to get him interested in photography, but that has now changed. Thanks to Topps and Mind Candy, he now has his own camera, and a digital camera request for his next birthday.
Lens caps off to Topps and Mind Candy, for their Holga card, thank you!
Update
Even though Moshi Monsters is no longer available, it continues to live on through Moshi Monsters Rewritten. And thousands of people around the world still enjoy this fan-made version of the original online game. Moshi Monsters is a reminder that even when things come to an end, a new start begins.