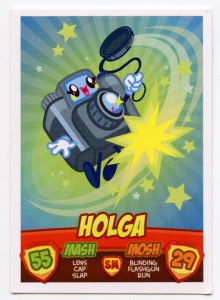 Lens Caps Off to Moshi Monsters Holga Camera indeed!
It thrills me to see photography being introduced to kids through a form of media served up via television or books. Why? Surely it helps to develop an interest or at least a small connection with photography from an early age.
Photography is a great skill that has the ability to make people of all ages more perceptive to their surroundings. Getting a child to develop this at an early age can only be a good thing right?
I was very pleased when my 8 year old came running in about a month ago shouting "Dad I have a card with one of your cameras on". The card he held in his hand was the Holga card from the Techies set, Holga belongs to the Happy Snappy species who likes to take photo's and hand them out to other Moshlings. Having been collecting the now poplar Moshi Monsters game cards, produced by Topps for some time. His collection is of a modest one compared to my camera collection! It seems many of his friends also collect these cards, and long may it continue.
Having failed at get him interested in photography in the past, maybe be just that, in the past. Today it's different, and thanks to Topps he now owns his own camera, (film camera) and understands the basics of photography with the zest to learn more. He has also asked for a digital camera for his next birthday. I won't say if we will buy him one or not as he has access to the computer and this website.
So lens caps off to Topps for their Holga card, thank you!