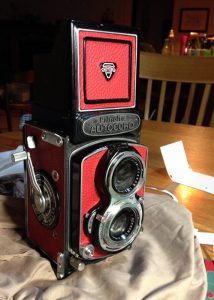 Milly's cameras are always pleased to receive feedback from customers and when Lee from Australia got in touch with us, we were delighted with his results. So much so, that we decided, with his permission to make this post about his restoration.
Lee tells us, being my 1st ever covering I found it a bit challenging. Unlike the Rolleiflex that has real leather that comes off in one piece. The Minolta TLR covers are delicate and well glued in random places. To overcome this problem I removed all the old crispy leatherette with a bamboo barbecue stick and then proceeded to clean the old glue with lighter fluid.
Working to a PDF print out of a template for the covers and using a rubbing technique with paper and pencil I was able to make paper cut outs. Using a set of vernier calipers I was able to make slight adjustments until I was happy with the fit. I didn't want to make a mistake working with the leather as this would be irreversible and making paper templates first seemed the best way to go, especially without having the original covers to work from.
Once I was completely happy I moved on to using the newly made templates for cutting the leather. I started by sticking double sided adhesive tape on the back of the paper templates to stop them from moving while I cut. The tools I used for cutting were a combination of  fine tip scalpel and a pair of fine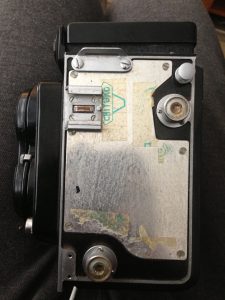 tip scissors. The film back holes were made with multi belt hole cutters and for the circles I used  a draft compass with a rotating wheel adjuster that locks in place with a super fine needle point. I had to customise the compass by replacing the drawing lead with a stainless steel needle for wool sewing, this I sharpened to a razor to use for the cutter. As I envisaged this worked well and made light work of the job in hand.
The next thing that needed attention was the back door, the black paintwork was scuffed and damaged in places. So before placing the new covers I resprayed it.
Once dried the covers were stuck in place and then the job of resembling the camera took place.
Lee tells us that his Minolta Autocord needed some TLC and was in need of being brought back to life, we think he has certainly achieved his goals and it looks stunning in red leather, well done Lee! For anyone interested the red leather and other colours can be purchased from here.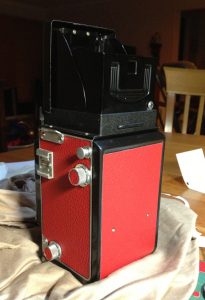 Below is taken from McKeown's Price Guide To Antique & Classic Cameras 1996-97
"There are 24 different models of Minolta 6X6 TLRs. Any internal or external change is considered to be a new model of that camera. All use either 120 or 220 rollfilm and have f3.5/75mm lenses. The shutters are Konan, Citizen, Sekosha, and Optiper."
Lee's camera is the non-metered Autocord RA model that was produced around 1958 for the export market.
The Autocord was Minolta's equivalent of the Rolliecord, and in some respects was better than the Rolleicord. The infamous Rokkor lens is said to be that bit better than the Zeiss Tessar found on Rolleicord's, with that in mind I leave you with two sample images taken by Lee with his lovely restored Minolta TLR.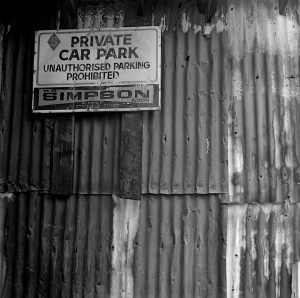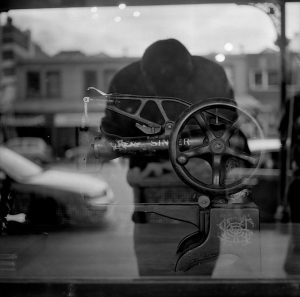 Photos in this post remains the copyrights of Lee Lira and should not be used without contacting him first.