Pentax K1000 Red & Black Snake Custom Covers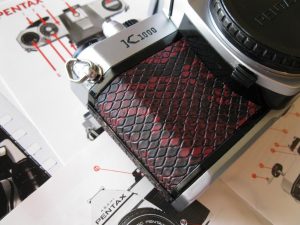 Chris from outback Australia, who is a recent customer and an avid photographer/collector, has sent us photos of his Pentax K1000 sporting our Red & Black Snake skin leatherette.
I have to say his skills at cutting and recovering cameras is exceptional. As can be seen in the photos sent, his attention to detail is that of a true craftsman, well done Chris!
He tells me that while he does this as a hobby, it has attracted the attention from close friends, who have also asked him of his services, this does not surprise me at all.
I have had recent messages from other customers asking how to cut new skins for a given camera, and to get them to fit so good. One way is to examine the original skins and if they fit well and can be removed from the camera without stretching, simply use them as a template. We do have a tutorial using this method which can be found here.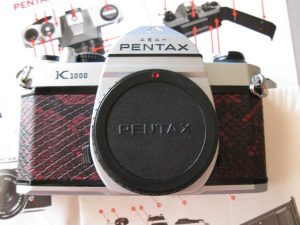 What if the originals body covers don't fit so good? If this is the case them decorators masking tape can be used to fill in the gaps by simply sticking it on the original skins and butting the edge of the tape up to where the covers should be for a tight fit, do this before removing them.
What if I stretch the skins? The best thing to do here is to make paper templates, it's a slow process but good results can be achieved by taking this route. We at HQ often employ this method to insure a tight fit.
What if my camera has no skins? Again the best route to take would be to make templates out of paper and use them as guides for cutting the leather/leatherette.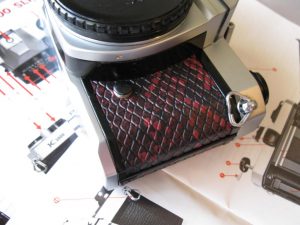 We do plan to make more tutorials to help others with camera recovering and with fitting new camera lightseals, and Chris has agreed to provide us with tutorials based on his experiences of re-covering Pentax K1000 cameras.  Chris' tutorials will include information on the tools he has fashioned to complete the process, preparation of a K1000 for re-covering, and the re-covering of his much loved K1000's.
If anyone else would like to send us photo's, then please contact us via the contacts page for our email address, we look forward to submissions.
Photos in this post remains the copyrights of Chris McNamara and should not be used without contacting him first.